EMERGENCY 24/7 PLUMBING
Servicing Water Filters in Sydney for over 20 Years
Listen to Us On SWR 99.9 FM
THE PEOPLE WHO HAVE TRUSTED US SO FAR
Love the work provided by Plumbing Services Sydney team, they fixed my blocked drain fast and came within the hour.
Plumbing Services Sydney team is highly recommended they have great fixed rates. Honest Team.
Hot Water Service called and they came the same day and installed my new Gas Hot Water system, thank you so much Plumbing Services Sydney.
New Toilet System and Bathroom Plumbing. Called a fair few places and this team is the best by far. Thanking you for an amazing plumbing service.
TODAY'S SPECIAL OFFERS FOR SYDNEY
Save! Save! Save! Check more of our new and exciting deals by visiting our plumbing services pages. Call us now on 1300 237 246 to receive savings on your Sydney plumbing! Our plumber Sydney team will refund your competitor's service call fee up to $100 dollars per repair if it exceeds $1,000 dollars. * The * conditions apply* including GST Mon – Friday 7 am – 3.20 pm. Written and supplied quotation for review, quotation must be within the last 20 days from the present date. Does not include CCTV surveying or exterior boundaries outside the property line. Not to be used along with any other discounts offered.
WATER FILTER SYTEMS
At Plumbing Services Sydney, we know all about water filter systems! We know all about the benefits of drinking a clean, refreshing and perfectly cool glass of filtered water right from your kitchen sink. With over 20 years of experience in installing in-house undersink water filters and reverse osmosis filters for clean drinking water in homes around Sydney, we'd like to share some of the benefits of having filtered water systems at home.
We have been in this business for over 20 years and we are continuously growing. Our clients appreciate our friendly plumbers and how we use the latest technology to deliver high water filter service. We work very hard to make sure all our customers are completely satisfied with our service.
Have you ever noticed that sometimes when you drink water straight from the tap, it smells a little like a swimming pool and has a slight "metallic" flavour? This is because our tap water in Sydney contains chlorine, which acts as a disinfectant, and may also take on the flavours of the piping it has to go through to get to your kitchen tap. Filtered water tastes and smells better than unfiltered water, and also contains less chemicals than regular tap water, such as chlorine, lead and mercury. A water filter will also eliminate bacteria and rust from your drinking water.
Apart from the initial set-up costs, a water filter in your home will also save you money. Rather than having to purchase bottled water for your family or for entertaining, you can have a constant supply of beautiful, clean water right at your kitchen sink. Our water filtration systems also use excellent quality filters, which will last a long time! For any information or advice about installing a water filtration system in your home or business in Sydney, contact us now!
HOME WATER FILTER SYSTEM
Plumbing Services Sydney specialises in the installation, maintenance and repair of a home water filter system, of all shapes and sizes. We can install them within taps and pipes – and even in rainwater tanks for that matter. Our goal is to ensure that you and your family are only ever exposed to the cleanest and purest water and what better way to do so than with your very own house water filter systems.
We'll take care of the installation while you focus on your health and well-being! Give us a call today to book our services and cleaner water will be yours to enjoy in no time.
We like to think that we hold the current record for installation times – in fact our team are so experienced at installing filtration systems that we'd love for you to challenge us to beat your estimation! We could be in and out of your home in a matter of hours, even if you have multiple taps that you'd like to have treated to our filters.
Here's minimal maintenance involved as well – and if you'd like a professional plumber to pop back from time to time, we'd be happy to clean your filters, replace them if necessary, or show you how to do so yourself! We at Plumbing Services Sydney, your satisfaction is our priority, Call us today to hire our team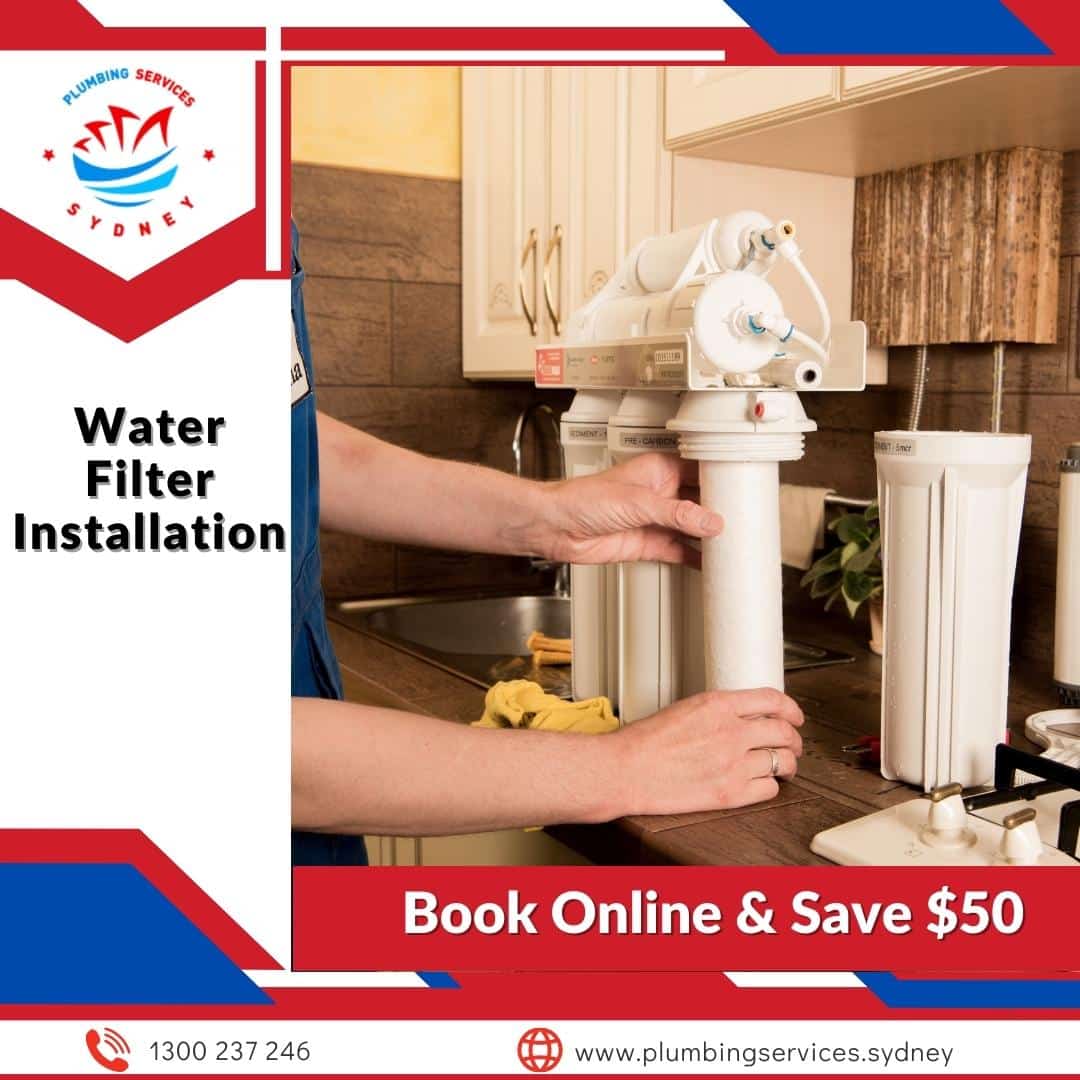 WATER FILTER INSTALLATION
Plumbing Services Sydney has been doing sink water filter installation Sydney wide for many years. We have a wide selection of water filters from top manufacturers for your water replacement and installation needs. and our team of plumbers is expertly trained and experienced in the installation and repair of these different filters even shower filters.
Our team will provide you with expert advice on the water filtration system that best suits your needs and budget, thus we have the most budget-friendly water filter installation cost. You can choose to have a whole property filtration system even for rain water,  installed if you so desire!
Our expert plumber water filter installation will be professionally done and will be carried out at any repair works on your filtration system so that you can enjoy cleaner water for better health and great savings. Our clients are our greatest asset and we are committed to supplying the best water filter replacement service in the market and ensuring that you get your money's worth by delivering quality workmanship on every installation or repair job. Call us for an obligation free quote on your new water filter system now!
PLUMBING SYDNEY RESIDENTIAL AND COMMERCIAL PROPERTIES
OPEN
24/7
We Are Open – Call Us – Sydney Wide 24 Hrs
LICENCED & DEDICATED PLUMBERS
Our plumbers meet Australian Standards because they are qualified, insured, and licenced.
QUICK
RESPONSE
Same-Day Sydney Wide Plumbing
THREE IMPORTANT POINTS THAT MAKE OUR SYDNEY PLUMBER TEAM UNIQUE
WHY CHOOSE US?
Just Give Us a Call at 1300 237 246 now, and Informs Our Plumbing Services Team to Fix It for You! There Are Many Reasons People Highly Recommend Plumbing Services in Sydney. It Is Just Because We Are the Best!
THE BEST PLUMBER IN SYDNEY
Our plumbing service is always available for all your plumbing needs in Sydney's inner western suburbs. We provide quality services at affordable prices. Contact us today! We're available 24 hours a day, 7 days a week for any emergencies that may arise. And we offer lifetime warranties on our work.
FREQUENTLY ASKED QUESTIONS- WATER FILTERS
Filtered water is better for you and can taste better. The purification system filters out contaminants making it healthier to drink.
There are several types on the market such as: Sediment Filtration, Reverse Osmosis, Granular Activated Carbon and a few more. Plumbing Service Sydney can help you choose and install the water filter of your choice
The water filter renowned for removing the largest amount of contaminants and dangerous waterborne bacteria is the Reverse Osmosis Filters. The filters push water through reverse osmosis membrane using pressure.
The main reason we look to install a water filter is to have clean drinking water. When deciding on a water filter, look for one that removes the largest amount of contaminants, the filtration rate, quality of water and the maintenance of the unit.
A sediment filter works well in removing heavy metals, sand, rust, dust and other particles in the water. It is made from melt blown polypropylene or pleated polyester with micron rating range from 1-100 microns. Lower microns means stronger filtration at a  slower water flow rate.
The activated carbon block comprises of fine carbon powder which is held together by a binding agent. It is very effective in removing chlorine taste, chemicals, odours and contaminants in water. When water flows through the pores of the activated carbon block,  it removes the impurities as the positively charged activated carbon attracts all the negatively charged chemicals
These are similar to carbon blocks as the carbon granules absorb contaminants in water that are larger in size of its pores when flowing through it.
Reverse Osmosis is one of the best filtration systems .This process uses a semi permeable membrane to filter out large particles and contaminants. It cleans water down to a molecule level leaving behind only pure H20.
We can install them within taps and pipes – and even in rainwater tanks for that matter. You can have your water filter installed under your sink or choose to have a benchtop system. No matter what size or style Plumbing Services Sydney can ealy install your choice of water filter.
Filtered water definitely smells and taste better than tap water. It may also depend on what water filter unit you have installed at your home. Most water filters will remove the taste and smell of chlorine but be assured that we will install only the best. You can also read our blog "What Happens If You Don't Change Your Water Filter" for added information.