EMERGENCY 24/7 PLUMBING
Providing Shower Repairs in Sydney for over 20 Years
Listen to Us On SWR 99.9 FM
THE PEOPLE WHO HAVE TRUSTED US SO FAR
Love the work provided by Plumbing Services Sydney team, they fixed my blocked drain fast and came within the hour.
Plumbing Services Sydney team is highly recommended they have great fixed rates. Honest Team.
Hot Water Service called and they came the same day and installed my new Gas Hot Water system, thank you so much Plumbing Services Sydney.
New Toilet System and Bathroom Plumbing. Called a fair few places and this team is the best by far. Thanking you for an amazing plumbing service.
TODAY'S SPECIAL OFFERS FOR SYDNEY
Save! Save! Save! Check more of our new and exciting deals by visiting our plumbing services pages. Call us now on 1300 237 246 to receive savings on your Sydney plumbing! Our plumber Sydney team will refund your competitor's service call fee up to $100 dollars per repair if it exceeds $1,000 dollars. * The * conditions apply* including GST Mon – Friday 7 am – 3.20 pm. Written and supplied quotation for review, quotation must be within the last 20 days from the present date. Does not include CCTV surveying or exterior boundaries outside the property line. Not to be used along with any other discounts offered.
SHOWER REPAIRS SYDNEY
Avail our shower repairs Sydney wide!
Leaking showers can cause problems such as carpet, wood, paint and plaster to grow rot and mould which often leaves unpleasant smells. Standard silicone, epoxy grout, waterproofing membrane, and sealants can stop a leaking shower for a short period of time but the problem will return again with more damage than what you started with. With this, immediate shower repairs are needed.
This is where Plumbing Services Sydney can help with our proactive and dependable shower regrouting option, specialised sealing and re-grouting products that will fix the problem with no leaks no more. And making your shower sealed.
People treat their showers as their own personal sanctuaries to which they can retire after a long day's work to freshen up and shed off fatigue. Even if you don't see your shower as your place to escape, it still needs to be in working condition.
Leaking shower repairs require action before water damage leads to bigger issues. Plumbing Services Sydney can attend to all your shower repairs within Sydney promptly. Our professional team at Plumbing Services Sydney understand the importance of fixing leaking shower repairs quickly. A typical shower repair in Sydney takes around 3 hours to complete, ensuring the shower will be ready to use the next day. We can also tend to your shower base repairs and general bathroom repairs.
LEAKING SHOWER REPAIR
In need of a leaking shower repair? Don't trust repair and tiling companies who offer you shortcuts to fix the problem. These short-term solutions or temporary measures end up costing you far more than you originally expected, as the problem will keep resurfacing and further damaging your shower. If ever we will be removing any tiles, we guarantee that there will be no other cracked tiles and we will keep your walls and floors in pristine condition.
Why waste time and money on poor quality materials and inexperienced labour? Call Plumbing Services Sydney for your shower leak repair needs.
At Plumbing Services Sydney we get to the root of the issue to deliver a lasting and complete solution to your problem. That's why we're the most reliable name when it comes to leaking shower repairs in Sydney.
To prevent the reoccurrence of any leakage or potential water damage we offer levelling as part of our service in shower base repairs. Sydney homeowners can save thousands from unnecessary repairs thanks to the Plumbing Service Sydney repair crew. No matter the scope of the bathroom shower repair Sydney homeowners know that they'll get a competitive price and truly unbeatable service from our team of tiling masters.
So whether you're searching for quality shower repairs or bathroom leaking repairs, Sydney residents only call their trusted plumbing services!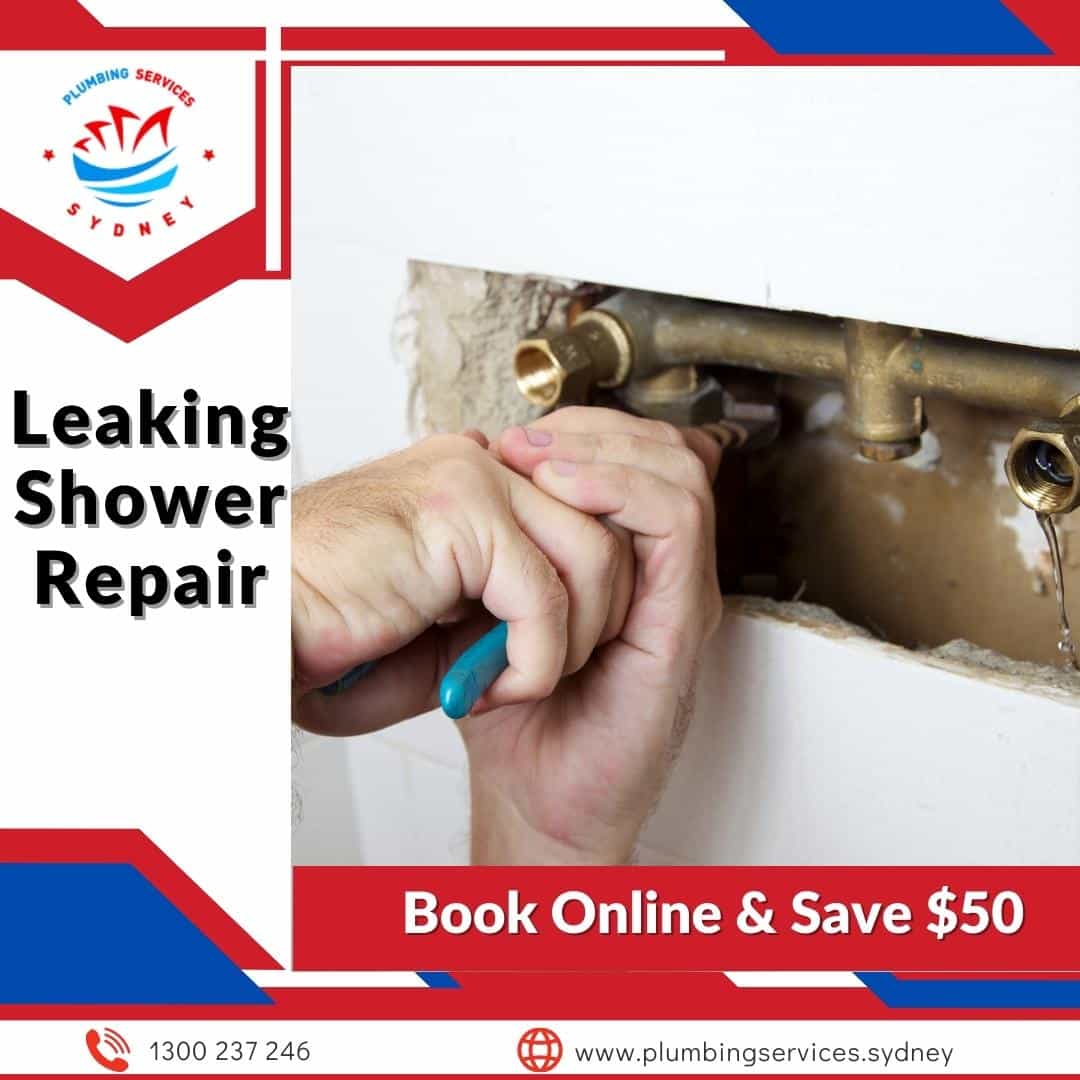 SHOWER REPAIR, INSTALLATION, AND REPLACEMENT
The best shower repair, installation, and replacement service in Sydney! Our professional team of plumbers can provide you with a comprehensive assessment and report for all your plumbing needs. We can provide a personalised plumbing solution that won't break the bank and prevent any additional finances from occurring.
By contacting our experienced team at Plumbing Services Sydney, you will be guaranteed to be receiving reliable service and above all high-quality workmanship. We are available 24 hours a day and we use the latest technology for leak detection. We can repair your leaking shower in no time together and your shower recess and shower screens for signs of leaking water.
Our pricing is upfront with no hidden costs and we are the most affordable shower repairs service provider. We will provide you with detailed information and solutions for your plumbing problems and no obligation free quote. We can also do bathroom renovations for your convenience. Be assured that you are in good hands with a highly experienced plumbing team, who prides itself on customer satisfaction.
Our aim is to build lasting relationships with our clients by ensuring that the work we carry out is to the highest of standards and the solutions are not just temporary fixes. Having a plumber frequent your home to resolve the same issue is NOT something we do. That is why we get the job done right, the first time.
After all,  "Happy Clients are the best advertising money can't buy ".
WHY PLUMBING SERVICES SYDNEY?
We have been a leading name in the industry for 20 years
Our work comes with a written guarantee
We work across Sydney on bathrooms and balconies of all shapes and sizes
We take great care in keeping each property we work in clean and tidy, even in the middle of the repairs
We provide work for commercial and residential properties
We offer free quotes and consultations to all clients
We set the industry standard for quality customer service
PLUMBING SYDNEY RESIDENTIAL AND COMMERCIAL PROPERTIES
OPEN
24/7
We Are Open – Call Us – Sydney Wide 24 Hrs
LICENCED & DEDICATED PLUMBERS
Our plumbers meet Australian Standards because they are qualified, insured, and licenced.
QUICK
RESPONSE
Same-Day Sydney Wide Plumbing
THREE IMPORTANT POINTS THAT MAKE OUR SYDNEY PLUMBER TEAM UNIQUE
WHY CHOOSE US?
Just Give Us a Call at 1300 237 246 now, and Informs Our Plumbing Services Team to Fix It for You! There Are Many Reasons People Highly Recommend Plumbing Services in Sydney. It Is Just Because We Are the Best!
THE BEST PLUMBER IN SYDNEY
Our plumbing service is always available for all your plumbing needs in Sydney's inner western suburbs. We provide quality services at affordable prices. Contact us today! We're available 24 hours a day, 7 days a week for any emergencies that may arise. And we offer lifetime warranties on our work.
FREQUENTLY ASKED QUESTIONS - SHOWER REPAIRS
There could be a potential crack in the shower tub or pan which is why you have a leak. Call our experienced team who can investigate the issue and repair the crack or advice whether the shower tub needs to be replaced.
You could try cleaning the shower head at first and if this doesn't work, try replacing it with a new one. If all fails you may have to call your local plumber to check the pressure of water to your property as the issue may be more complicated.
If your shower is not working it could mean that you have a broken shower valve or cartridge. If you are not getting any cold or hot water or experiencing strange noises when you try and turn the handle, then it is likely that you have a broken valve. Call Plumbing Services Sydney who can easily fix this problem.
Your shower could be pooling with water due to a simple clog such as hair or or build up of scum in the drains. Try cleaning it out with some chemical drain cleaner, or bicarb soda and vinegar. This will most likely clear the clog and you will have clear running water.
Mould is a really tricky problem, but nethertheless can be treated and resolved. It usually appears due to poor ventilation in your bathroom. Try installing and using a bathroom ceiling fan whenever you shower. Keeping the bathroom window slightly open when showering can also help. Also wiping down the shower walls after each shower will help prevent it from coming back.
Plumbing Services Sydney specialise in repairing your shower by removing old grout, regrouting, sealing your shower. This will prevent any leaks and make your shower look brand new.
A typical shower repair takes up to 3 hrs. Yo will need to wait till the next day to use the shower to allow time for products to dry. This is quite normal and the best procedure.
There are some easy natural solutions to help clean mould.
Tea Tea Oil -Try combining a cup of water with a teaspoon of Tea Tree oil in a spray bottle. Spray the area, leave for a few minutes and then wipe away.
Clove Oil – Combine a teaspoon of Clove Oil in 1 litre of water in a spray bottle. Spray the area and leave on for half an hour or for more persistent moulds leave overnight before wiping it away.
Bicarb Soda & Vinegar – Try mixing one part vinegar with 2 parts of bicarb and then mix well. Rub the mixture onto the affected area. Try scrubbing with the mixture before wiping it off with a damp cloth.
Any type of water leak for a period of time can cause major problems such as structural issues, mould, moisture in walls etc. Call Plumbing Services Sydney who can detect leaks and then carry out the repairs that are needed.
We will offer a free quote for all your shower repairs . We will guarantee quality workmanship at competitive prices and have your shower working and looking perfect.