EMERGENCY 24/7 PLUMBING
The Best Roof Leak Repair Service in Sydney for over 20 Years
Listen to Us On SWR 99.9 FM
THE PEOPLE WHO HAVE TRUSTED US SO FAR
Love the work provided by Plumbing Services Sydney team, they fixed my blocked drain fast and came within the hour.
Plumbing Services Sydney team is highly recommended they have great fixed rates. Honest Team.
Hot Water Service called and they came the same day and installed my new Gas Hot Water system, thank you so much Plumbing Services Sydney.
New Toilet System and Bathroom Plumbing. Called a fair few places and this team is the best by far. Thanking you for an amazing plumbing service.
TODAY'S SPECIAL OFFERS FOR SYDNEY
Save! Save! Save! Check more of our new and exciting deals by visiting our plumbing services pages. Call us now on 1300 237 246 to receive savings on your Sydney plumbing! Our plumber Sydney team will refund your competitor's service call fee up to $100 dollars per repair if it exceeds $1,000 dollars. * The * conditions apply* including GST Mon – Friday 7 am – 3.20 pm. Written and supplied quotation for review, quotation must be within the last 20 days from the present date. Does not include CCTV surveying or exterior boundaries outside the property line. Not to be used along with any other discounts offered.
ROOF LEAKS
Do you have roof leaks or gutter leaks? Do you see water stains on your ceiling? Want to improve your existing tile, tin or asbestos roof? A new or improved roof and/or gutters add value to your property and alleviates the maintenance costs associated with older roof styles.
At Plumbing Services Sydney, we specialise in roof gutter leak repair and installation of domestic housing while providing top quality workmanship and products to add value to your home. We have more than 25 years of combined years of experience and we know what to do and how to stop the leak for every job.
We provide these services to houses, units, two-storey homes, apartments, carports, verandas and more. We are roofing professionals who use the latest technology in leak detection.
Plumbing Services Sydney aims to provide the highest level of customer service and superior workmanship in the roofing industry. We are renowned for providing affordable, quality and long-lasting roof and gutter repair services to deliver a complete return on investment to our customers, homeowners and businesses. No wonder when you search for "leaking roof repair near me" on the internet, you see us on the first page.
In addition, our licensed and certified roof and gutter repair professionals will assess your entire roofing system and accommodation. Our assessment procedure includes a detailed report, documented with pictures to help you understand the current condition of the roof and therefore start our roof leak repair service.
ROOF AND GUTTER REPAIR
Sydney's best roof and gutter repair service provider is ready to serve you any time of the day!
The roof over your head is the first line of defence for your home against natural hazards. Unfortunately, it won't last forever, and over time it will begin to deteriorate. Our roofers are experts in identifying and rectifying the causes of roof leaks and areas requiring maintenance. For example, the roof and ceiling on most properties tend to attract moss and lichen on the roof and more often than not, this is left unchecked.
Our end-to-end infrared roof inspection procedure will not only address hidden water leaks but also pinpoint energy leaks, electronic leaks and unseen pests (for pest control) that have made a home here.
When left to grow and spread as it pleases, It will eat into the coating of your roof and in time speed up the corroding process of metal roofs and make concrete tiles more porous. We're often called to jobs where water has begun dripping from the inside of the tiles. Don't let this happen to you. Try searching "roof and gutter repair near me" and you'll find us on the first page. Contact Plumbing Services Sydney to keep the health of your roof in check. Regardless of your property type, satisfaction is guaranteed.
We have a wide range of clientele and strive to provide superior roof and gutter repairs, maintenance and replacement solutions that are tailored to the specific needs of every client, residential or commercial.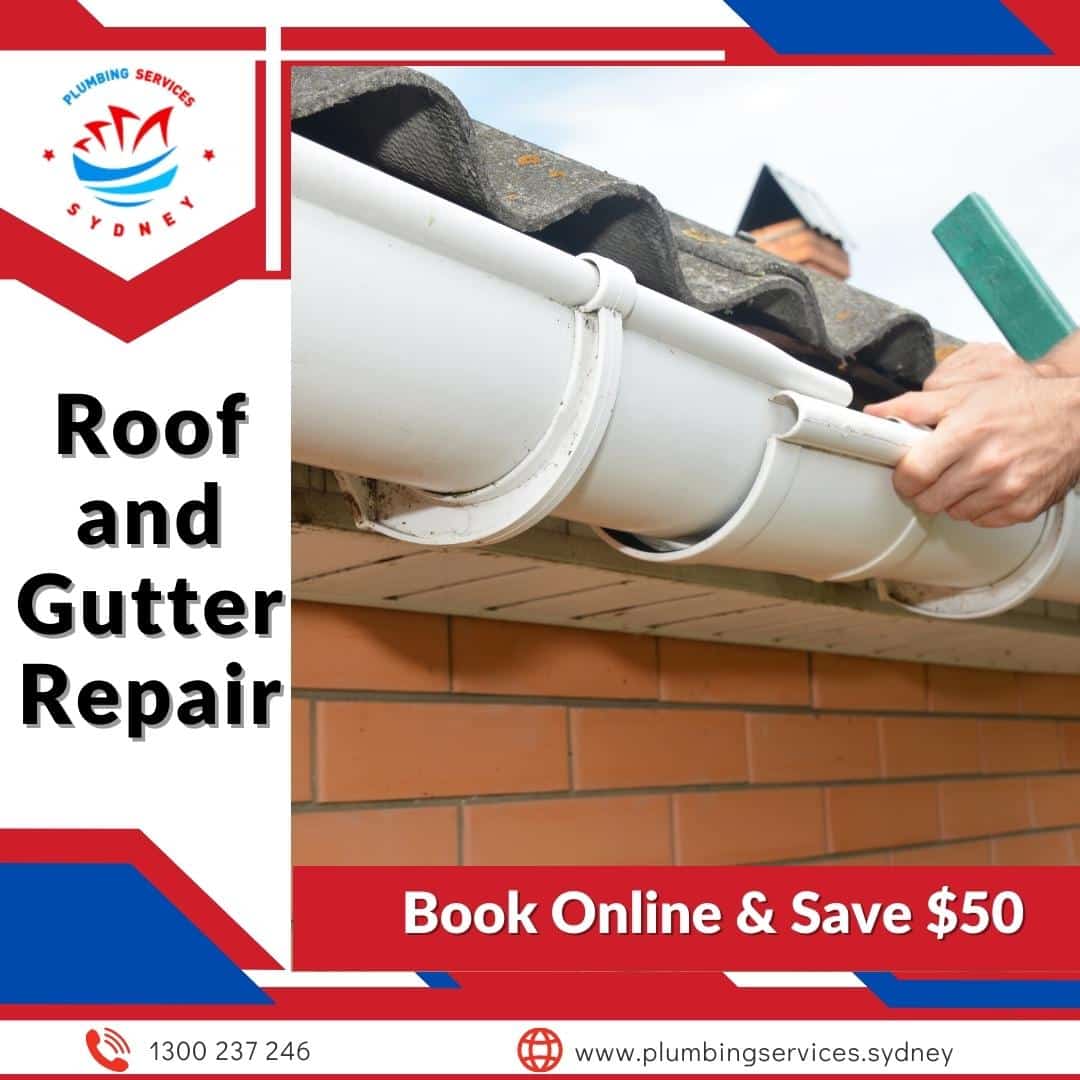 EMERGENCY ROOF LEAK REPAIR
If your roof is leaking, it's important to get emergency roof leak repair as soon as possible. A leaking roof can cause serious damage to your home, and the longer you wait to get it fixed, the more expensive the repairs will be. There are a few things you can do to temporarily fix a leaking roof, but it's always best to call a professional roofer to come and take a look at the problem.
You don't need to search, "roof leak repair near me" because you have Plumbing Services Sydney ready to serve you. We will be able to quickly assess the situation and make the necessary repairs.
We are known for our efficiency, effective installation techniques, and ability to complete every project within the deadline. Furthermore, we continually strive to offer the most cost-effective prices.
Committed to delivering a first-rate and reliable range of plumbing and emergency roof repairs and services the team at Plumbing Services Sydney offers premium and modern improvement and roof leak repair services at an affordable price. Using only the best materials that are able to withstand local environmental and weather conditions we can extend the life of your home, while also improving its visual appeal. Give your home the roof and gutter repairs it deserves by getting in touch with our passionate team of roofing contractors.
Our experienced and knowledgeable staff are always on-hand, seven days a week to provide honest, straightforward advice, alongside realistic, no-obligation quotes. Let us consider your distinct needs and budget, before tailoring the perfect roof or gutter solution for your home, office or factory.
PLUMBING SYDNEY RESIDENTIAL AND COMMERCIAL PROPERTIES
OPEN
24/7
We Are Open – Call Us – Sydney Wide 24 Hrs
LICENCED & DEDICATED PLUMBERS
Our plumbers meet Australian Standards because they are qualified, insured, and licenced.
QUICK
RESPONSE
Same-Day Sydney Wide Plumbing
THREE IMPORTANT POINTS THAT MAKE OUR SYDNEY PLUMBER TEAM UNIQUE
WHY CHOOSE US?
Just Give Us a Call at 1300 237 246 now, and Informs Our Plumbing Services Team to Fix It for You! There Are Many Reasons People Highly Recommend Plumbing Services in Sydney. It Is Just Because We Are the Best!
THE BEST PLUMBER IN SYDNEY
Our plumbing service is always available for all your plumbing needs in Sydney's inner western suburbs. We provide quality services at affordable prices. Contact us today! We're available 24 hours a day, 7 days a week for any emergencies that may arise. And we offer lifetime warranties on our work.
FREQUENTLY ASKED QUESTIONS - ROOF GUTTER LEAKS
Plumbing Services Sydney use end to end infrared inspection procedures to detect any hidden water leaks. We are equipped with the right technology and equipment to pinpoint and locate unseen leaks.
All our plumbers are licensed to carry out out any roof plumbing issue you may have. They are qualified, trained and highly experienced.
Yes, our roof plumbing service covers all repairs and maintenance on your roof and gutters.
Plumbing Services Sydney offers roofing services for any small or large, residential or commercial jobs.
We are proud to offer a quick response with Sydney wide same day plumbing service.
Our company offers competitive prices and does not charge by the hour like most plumbing companies. We charge by the book, meaning you will get a single quote for the job to be completed.
Our team pride themselves on customer satisfaction and work in a professional and clean manner, and will leave your property with a clean and completed job.
We can provide a comprehensive report on any structural issues which may impede on your roof's drainage function.
We provide quality service. After inspecting your roof  and will clear any blockages or obstructions in your downpipes so that you have a well maintained roof.
Our friendly team will assess the condition of your gutter or how large the cracks, holes and rust are and give you detailed advice on whether to replace or repair them. If the damage is large, then we will replace them.