EMERGENCY 24/7 PLUMBING
Providing Leaking Pipes Repair in Sydney for over 20 Years
Listen to Us On SWR 99.9 FM
THE PEOPLE WHO HAVE TRUSTED US SO FAR
Love the work provided by Plumbing Services Sydney team, they fixed my blocked drain fast and came within the hour.
Plumbing Services Sydney team is highly recommended they have great fixed rates. Honest Team.
Hot Water Service called and they came the same day and installed my new Gas Hot Water system, thank you so much Plumbing Services Sydney.
New Toilet System and Bathroom Plumbing. Called a fair few places and this team is the best by far. Thanking you for an amazing plumbing service.
TODAY'S SPECIAL OFFERS FOR SYDNEY
Save! Save! Save! Check more of our new and exciting deals by visiting our plumbing services pages. Call us now on 1300 237 246 to receive savings on your Sydney plumbing! Our plumber Sydney team will refund your competitor's service call fee up to $100 dollars per repair if it exceeds $1,000 dollars. * The * conditions apply* including GST Mon – Friday 7 am – 3.20 pm. Written and supplied quotation for review, quotation must be within the last 20 days from the present date. Does not include CCTV surveying or exterior boundaries outside the property line. Not to be used along with any other discounts offered.
LEAKING PIPE SYDNEY
A leaking pipe can be anyone's worst nightmare. Our water pipes are responsible for transporting more than just liquid from one place to another and although most modern ones will be built to last; pressure, decay, and water damage can often result in them suffering from leaks from time to time.
It can be easy to ignore minor leaking water pipes, but did you know that once water finds a way out of your pipework, it won't take long before it starts to take its toll on everything nearby? You can turn off the water for a quick fix but the problem still remains.
Why risk these unwanted events, especially as prolonged leaks can result in thousands of dollars of work in damage and repairs. Plumbing Services Sydney stops the leak in no time.
Our professional plumber can evaluate the location of the leak, take care of any necessary repairs and then get your pipework back in working order in next to no time within a 24 hour timeframe, so what have you got to lose?
We specialise in burst and leaking copper pipe repairs and if you're looking for a professional service that genuinely puts you first, just give our friendly team a call today and we will take care of the rest. We're fast, friendly and affordable – what more could you ask for?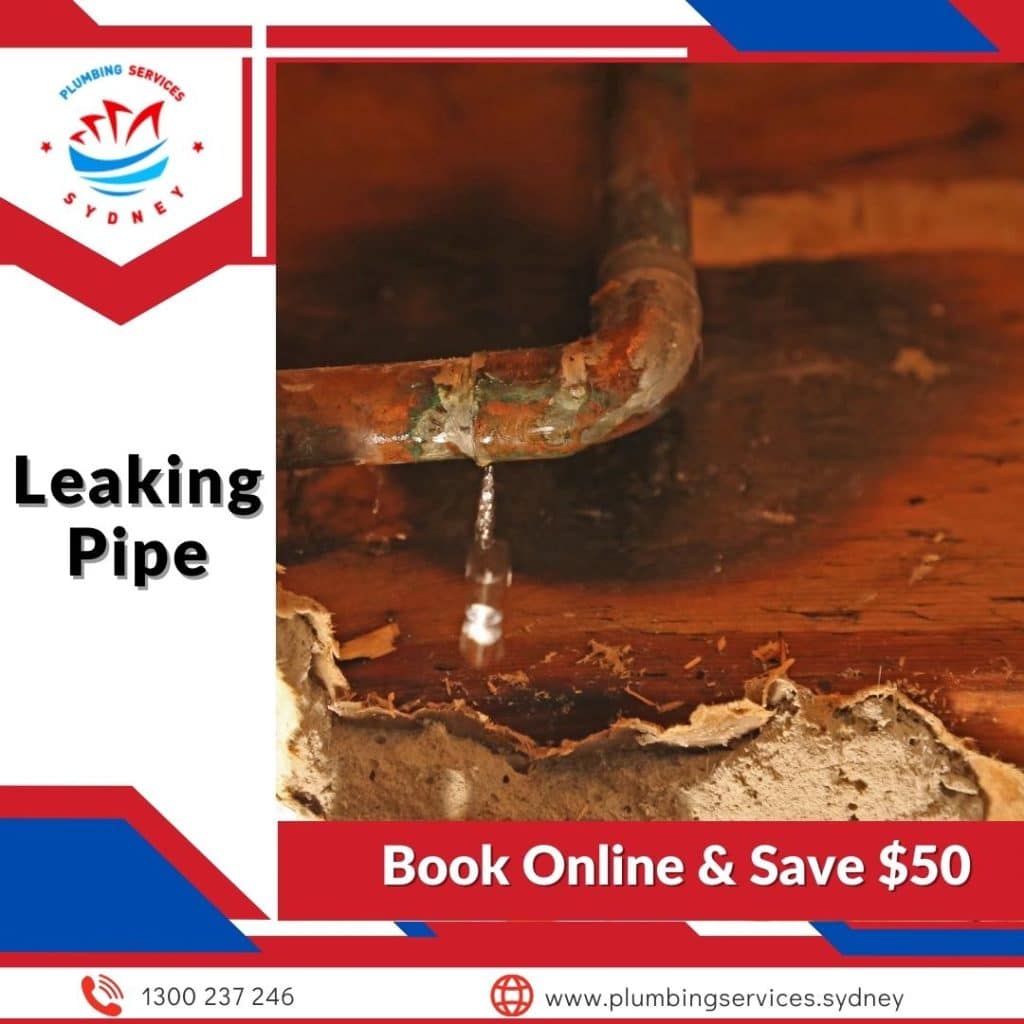 PIPE LEAK DETECTOR
Professional plumbers would use a pipe leak detector when locating a leak. Here's why. When a pipe in your house clogs, it puts a whole lot of pressure on your plumbing system. The pressure reaches its threshold and pipes expand, eventually bursting.
Water pressure is impeded when foreign materials find their way down your drains. If you want to increase the water pressure in your home, it's essential to maintain the plumbing system regularly.
Depending on the pressure coming through the pipes, the outcomes of corroded or damaged pipes might be more akin to a water leak rather than a more severe burst. If you have a higher water bill than average, or if your water meter is registering usage when no one is home, chances are you have leaks in your pipes.
While your mind might automatically veer inside the home, we can't forget about external piping, too. The rapid growth of tree roots in a damp environment like a water pipe can quickly hinder a pipe's flow, causing a pressure increase which eventually leads to a burst. The minuscule hair-like roots infiltrate pipe work and grow quickly, resulting in a tangled mess of debris that impedes flow.
Acoustic leak detection is a method of finding leaks in pressurized systems by using sound. It is often used to find leaks in pipelines and other types of tubing. The principle behind acoustic leak detection is that a leak will cause a change in the pressure of the watering system, which will create a sound that can be detected with special equipment. Acoustic water leak detection can be used to find leaks that are too small to be detected by other methods, such as visual inspection.
One of the most common causes of burst pipes is cold weather… however here in Australia, it's seldom the cause.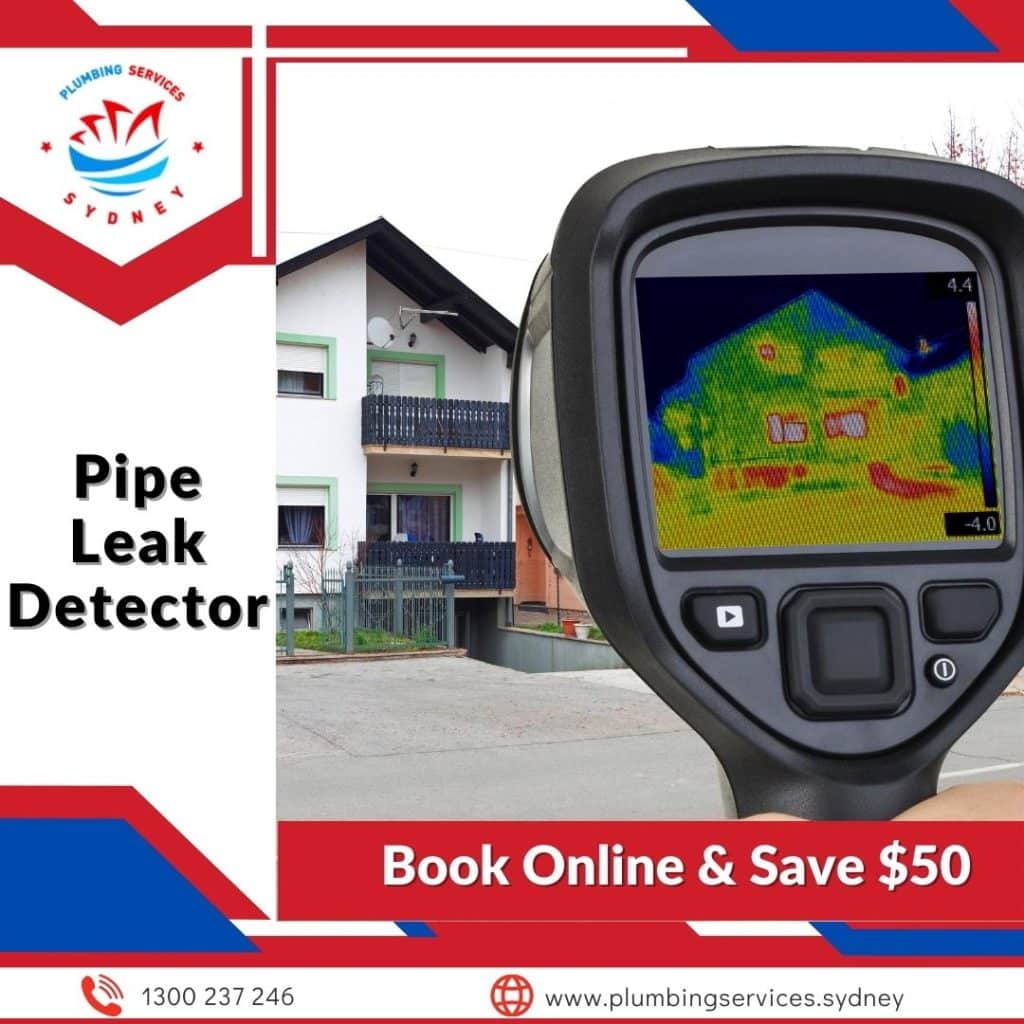 BURST PIPE DETECTION AND REPAIR
We deal with burst pipe detection and repair, seriously.
Have you ever seen one of those videos online, where a self-proclaimed handyman decides to fix his own leaky pipe, only for it to burst in his face? This is usually when the clips cut out – but what happens after the explosion? Well, if the water isn't turned off at the mains, it won't take long before enough water comes flooding out to fill the entire floor.
Even if you can get to the mains in time, the damage that can be done to the pipework can often be pretty extensive. Every single one of the pipes within our homes is subjected to pressure – otherwise, they wouldn't be able to transport water from one place to another, but if that pressure gets a little too much to bear, it's not uncommon for leaks to occur.
If left untreated, this liquid exposure could soon start to take its toll on the outside of pipes, causing them to rust. It's not just a burst water pipe that can suffer damage, there's also the risk of wood warping – and if your pipes are located within walls, it won't take long for dampness to start forming.
What's more, PVC pipes are not immune to deterioration, and can also suffer from cracks due to exposure to harsh chemicals or accidental impacts. If you notice a crack in your PVC pipe, it's important to take action quickly to prevent any further damage.
At Plumbing Services Sydney we make a point of prioritising our burst pipe repair and leaking pipe repairs because if you leave them untreated, the damage that they can cause can be catastrophic! Call us and let us fix a burst pipe in your home.
WHY PLUMBING SERVICES SYDNEY?
Choosing the right leak detection company for your water leak is so important.
We get your approval before any leaking pipes repair starts giving you complete control
We can handle any type of water pipe repair as we carry a full range of diagnostic equipment with us at times
A family owned and operated business for over 20 years located in Sydney
We look over your entire plumbing system to ensure we get to the bottom of the problem
We'll let you know how much your leak detection will cost at every stage so there's no nasty surprises
We offer a fast friendly response to those emergency water leak pipes repair jobs that just can't wait
Our team of experts is equipped to provide recommendations on the most suitable plastic pipes for plumbing purposes
PLUMBING SYDNEY RESIDENTIAL AND COMMERCIAL PROPERTIES
OPEN
24/7
We Are Open – Call Us – Sydney Wide 24 Hrs
LICENCED & DEDICATED PLUMBERS
Our plumbers meet Australian Standards because they are qualified, insured, and licenced.
QUICK
RESPONSE
Same-Day Sydney Wide Plumbing
THREE IMPORTANT POINTS THAT MAKE OUR SYDNEY PLUMBER TEAM UNIQUE
WHY CHOOSE US?
Just Give Us a Call at 1300 237 246 now, and Informs Our Plumbing Services Team to Fix It for You! There Are Many Reasons People Highly Recommend Plumbing Services in Sydney. It Is Just Because We Are the Best!
THE BEST PLUMBER IN SYDNEY
Our plumbing service is always available for all your plumbing needs in Sydney's inner western suburbs. We provide quality services at affordable prices. Contact us today! We're available 24 hours a day, 7 days a week for any emergencies that may arise. And we offer lifetime warranties on our work.
FREQUENTLY ASKED QUESTIONS - LEAKING OR BURST PIPES
In most cases the homeowner is responsible for the leaking pipe. It also depends on where the leak is and if it is inside or outside your home or whether it is a shared pipe across your boundary. Your local plumber will inform you of this after investigating the location and cause of the leak.
Plumbing Services sydney offer competitive prices and will advice you on the extent of the leak and damage to the pipes. You can rest assured that you will be offered the best prices in Sydney.
We offer prompt reliable services across Sydney ensuring the leak or burst pipe are repaired efficiently at at very competitive prices.
If you have home and contents' insurance it may cover damage which is accidental or sudden. Check with your insurer for detailed information.
Putting putty on very small leaks may solve a problem for the short run, however it will only be a temporary solution. For noticeable leaks or burst pipes you need to call in the professionals otherwise you could end up damaging your home and property.
Clogged water lines can cause your pies to leak or burst as the water will backup and cause high water pressure in your pipes. Eventually your pipes will start to leak or burst. It is advisable to always clear your drains if you notice slow drainage or a pooling of water.
There are products on the market such as putty or tape which can secure minor leaks. Check with your local hardware store for good products to use.
You can check for potential leaks by using your water meter. Turn off all taps and appliances that use water in your home. Go to your water meter and write down the number on the dial and don't use any water in your home for the next hour. Go back and check the numbers on the water meter. If they have changed then you have got a leak.
Check with your neighbours to isolate any other possible reasons, for example they could have grey water running onto street or may have left the hose on. Report any leak or burst pipe in a public space as soon as you see it to Sydney Water. They will come out to service the problem.
Plumbing Services Sydney will replace any old copper pipes with the latest pipes to ensure you have clean water running from you rtaps. Don't delay calling especially if you notice cloudy or smelly water which can be caused by old rusty pipes.