EMERGENCY 24/7 PLUMBING
COMMERCIAL PLUMBERS
SYDNEY
Looking for the best commercial plumbers Sydney Wide? We have experience of over 20 Years.
Listen to Us On SWR 99.9 FM
THE PEOPLE WHO HAVE TRUSTED US SO FAR
Love the work provided by Plumbing Services Sydney team, they fixed my blocked drain fast and came within the hour.
Plumbing Services Sydney team is highly recommended they have great fixed rates. Honest Team.
Hot Water Service called and they came the same day and installed my new Gas Hot Water system, thank you so much Plumbing Services Sydney.
New Toilet System and Bathroom Plumbing. Called a fair few places and this team is the best by far. Thanking you for an amazing plumbing service.
TODAY'S SPECIAL OFFERS FOR SYDNEY
Save! Save! Save! Check more of our new and exciting deals by visiting our plumbing services pages. Call us now on 1300 237 246 to receive savings on your Sydney plumbing! Our plumber Sydney team will refund your competitor's service call fee up to $100 dollars per repair if it exceeds $1,000 dollars. * The * conditions apply* including GST Mon – Friday 7 am – 3.20 pm. Written and supplied quotation for review, quotation must be within the last 20 days from the present date. Does not include CCTV surveying or exterior boundaries outside the property line. Not to be used along with any other discounts offered.
SYDNEY'S #1 COMMERCIAL PLUMBERS
Commercial plumbers are responsible for the installation and repair of plumbing systems in commercial buildings. These plumbers typically work on projects that are larger in scope than those of residential plumbers. Commercial plumbers may be involved in new construction, retrofitting, and repairs. They also have the necessary skills and knowledge to work on a variety of piping systems, including those made of copper, cast iron, and plastic. In addition, commercial plumbers must be able to read and interpret blueprints and other technical drawings.
No matter what your commercial plumbing needs may be, you can count on the experts at Plumbing Services Sydney to get the job done right. With our team of experienced and qualified commercial plumbers, you can rest assured that your plumbing project will be completed on time and within budget. Contact us today to learn more about our commercial plumbing services or to schedule a free consultation.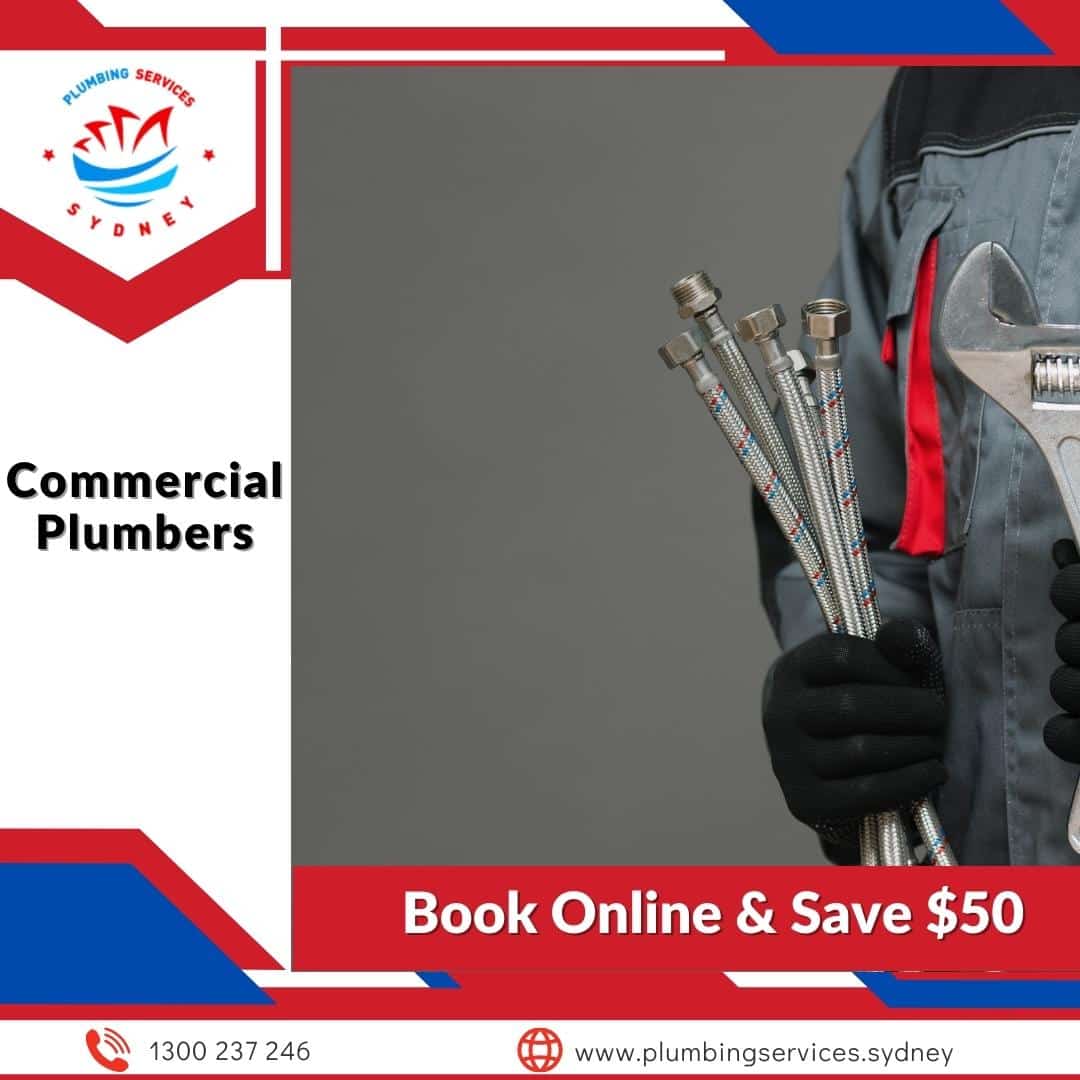 COMMERCIAL PLUMBERS SYDNEY
Plumbing Services Sydney's commercial plumbers Sydney wide are experts in handling all sorts of commercial plumbing problems. They have the experience and expertise to deal with any kind of commercial plumbing issue, no matter how big or small it may be. commercial plumbers in Sydney are also able to provide a wide range of other services, such as drain cleaning, pipe repair and replacement, and much more. So if you have any commercial plumbing issues, don't hesitate to contact commercial plumbers Sydney for help.
At Plumbing Services Sydney, we provide a comprehensive range of services that cover all aspects of plumbing and gas, from simple repairs to complete bathroom and kitchen renovations. We also specialize in hot water system maintenance and installation, as well as clearing blocked drains. No matter what your needs are, our team of experienced professionals will be able to assist you.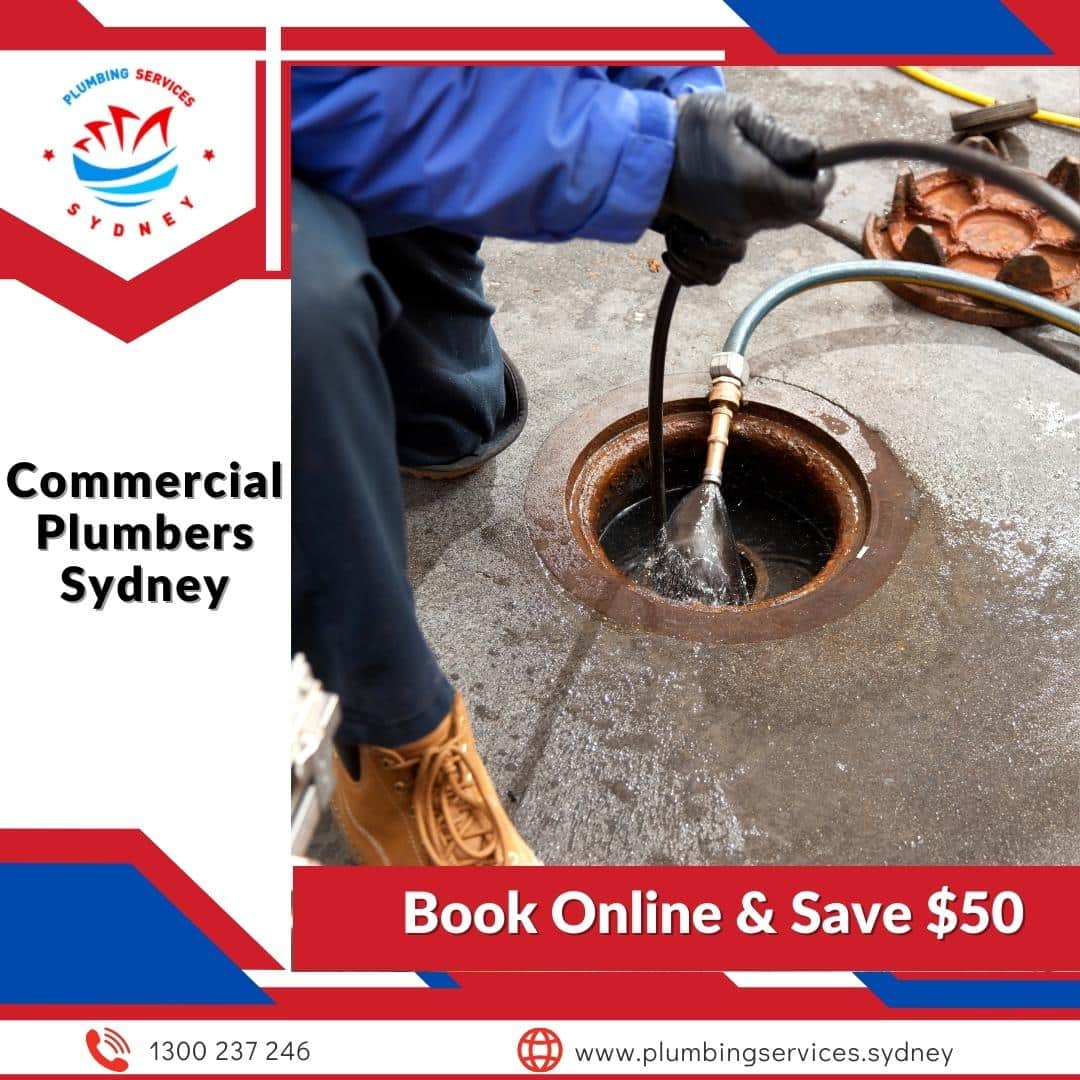 EMERGENCY COMMERCIAL PLUMBER
If you have a plumbing emergency, you need to know that you can rely on emergency commercial plumbers at Plumbing Services Sydney to get the job done right. We are trained and experienced in dealing with all kinds of plumbing issues and We will be able to get your problem fixed quickly and efficiently. You can rest assured that your emergency is in good hands when you call on emergency commercial plumbers at Plumbing Services Sydney.
We provide 24/7 customer service for our emergency plumbing services.
COMMERCIAL STRATA PLUMBING
Strata plumbing is the process of installing and maintaining the plumbing system in a strata property. This includes the pipes, fixtures, and other components that make up the plumbing system. Strata plumbers are responsible for ensuring that the plumbing system is installed correctly and that it meets all relevant code requirements. They also maintain and repair the plumbing system as needed.
Strata plumbing is the responsibility of the strata corporation and must be maintained in good working order.
COMMERCIAL PLUMBING MAINTENANCE
Plumbing maintenance and routine maintenance are important for keeping your plumbing in top condition. By regularly checking for leaks, blockages, and other potential problems, you can prevent major damage to your home or business. plumbing maintenance is also important for extending the life of your plumbing system.
If you have a burst pipe or sewer line, it is important to contact a professional plumber as soon as possible. Plumbers can help repair the damage and prevent any further issues.
PLUMBING SYDNEY RESIDENTIAL AND COMMERCIAL PROPERTIES
OPEN
24/7
We Are Open – Call Us – Sydney Wide 24 Hrs
LICENCED & DEDICATED PLUMBERS
Our plumbers meet Australian Standards because they are qualified, insured, and licenced.
QUICK
RESPONSE
Same-Day Sydney Wide Plumbing
THREE IMPORTANT POINTS THAT MAKE OUR SYDNEY PLUMBER TEAM UNIQUE
WHY CHOOSE US?
Just Give Us a Call at 1300 237 246 now, and Informs Our Plumbing Services Team to Fix It for You! There Are Many Reasons People Highly Recommend Plumbing Services in Sydney. It Is Just Because We Are the Best!
THE BEST PLUMBER IN SYDNEY
Our plumbing service is always available for all your plumbing needs in Sydney's inner western suburbs. We provide quality services at affordable prices. Contact us today! We're available 24 hours a day, 7 days a week for any emergencies that may arise. And we offer lifetime warranties on our work.
FREQUENTLY ASKED QUESTIONS ABOUT COMMERCIAL PLUMBING
The most common problems that commercial plumbing systems experience are clogged drains and broken pipes
Business owners can prevent these problems from happening by having regular maintenance and cleaning services performed on their commercial plumbing system.
Calling a professional plumber is necessary when you experience any sort of commercial plumbing issue. If you're a business owner, it's being proactive to have a professional plumber on call or on staff that can take care of these types of problems when they occur.
One of the most common myths about commercial plumbing is that it's always expensive to install or use. While there are certainly some high-end systems that can be costly, there are also many affordable options available.
Commercial plumbing emergencies can have dire consequences for businesses of all sizes. A backed-up sink or toilet can quickly turn into a flooded mess, damaging equipment, products, and inventory. If a plumbing emergency is not addressed in a timely manner, it can also lead to the development of mould and other dangerous bacteria.
1. Make sure that you have a commercial plumber on retainer. This way, if there are any emergencies or unexpected problems, you'll have someone who can help right away.
2. Check your water pressure regularly. If it's too high or too low, it could cause problems with your plumbing system.
3. Keep an eye on your drains. If they're clogged, it could mean trouble for your plumbing system as a whole.
4. Have regular maintenance done on your plumbing system to ensure that everything is running smoothly and that no problems are brewing unnoticed.
One of the biggest issues is that these systems often see much more use than residential systems, so they require more frequent inspections and repairs.
Additionally, the materials used in commercial plumbing are often more expensive and require a higher level of expertise to work with, so it can be more difficult to find qualified contractors who are able to do the necessary maintenance.
Commercial plumbing systems should be inspected on a regular basis in order to prevent any future problems. It is recommended that you have a professional inspect your system at least once a year, and more often if you notice any changes or problems with your system. By inspecting your system regularly, you can catch any potential problems before they become too costly or difficult to fix.
The main difference between a residential and commercial plumber is the scale of the work that they do. Commercial plumbers typically work on larger projects, such as installing plumbing for an entire office building or maintaining the plumbing for a large apartment complex.
Also, the size and scope of commercial plumbing projects require a higher level of expertise and experience than residential projects.
There are a few things business owners can do to ensure they're getting the best possible service when it comes to commercial plumbing.
First, it's important to vet potential contractors carefully. Then make sure to check references and reviews, and get estimates from multiple companies before making a decision.