BACKFLOW PREVENTION
SYDNEY
Trust our backflow prevention Sydney experts to keep your water supply free from cross-contamination. Don't take any chances with your health. It's incredibly important to have a reliable team by your side to ensure the safety and cleanliness of your water supply. Not only will we install the necessary equipment, but we will also provide regular maintenance and testing to ensure everything is working as it should. So, you can have peace of mind knowing that your water supply is safe and secure.
Listen to Us On SWR 99.9 FM
PROTECT YOUR WATER SUPPLY, GET BACKFLOW PREVENTION SERVICES TODAY!
SYDNEY'S #1 BACKFLOW PREVENTION
With over 20 years of combined backflow prevention experience, you can rest assured that Plumbing Services Sydney will assess your commercial building correctly. We take our job seriously and are proud of it. Our backflow prevention device testing ensures the cleanliness of drinking water for you and your neighbours, while also safeguarding your business, organization, or home from the risk of contaminating the local water supply.
Plumbing Services Sydney takes pride in offering installation, servicing, and testing for your backflow prevention device. Our dedicated team of backflow plumbers commits to ensuring your compliance with all current backflow prevention regulations.
While it is true that any plumber can perform backflow prevention installation, Australian law requires a certified professional to test its functionality. Luckily, we offer highly affordable services and strive to efficiently complete the job. Our certification comes from accredited backflow prevention courses, recognised by both the Plumbing Industry Commission and the Backflow Prevention Association of Australia.
Secure Your Plumbing With Our Backflow Prevention Sydney Experts
Backflow Prevention Sydney is essential for maintaining the safety and quality of water systems in the city. As a top-tier provider of backflow prevention services, we make sure that the best backflow preventer is installed to guard against plumbing backflow prevention issues.
With our backflow prevention specialists, we offer comprehensive solutions, including Sydney Water backflow prevention compliance and backflow preventer testing equipment. Our goal is to safeguard the integrity of the water supply and prevent any potential contamination. Trust us for reliable and efficient backflow prevention services in Sydney.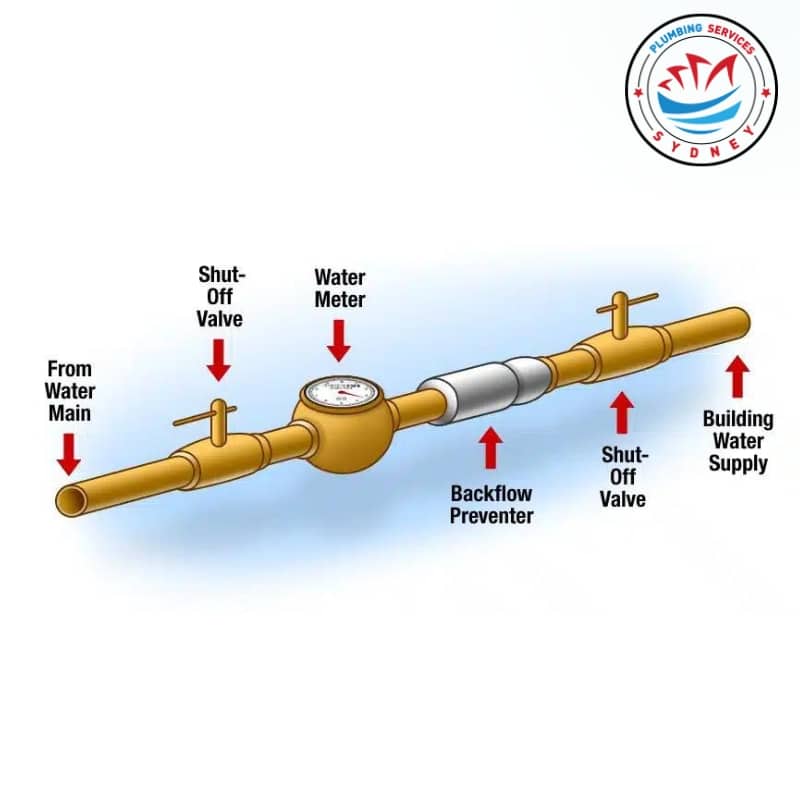 Get Reliable Backflow Prevention Testing Services to Safeguard Your Water System
When it comes to ensuring the safety and compliance of your plumbing system, backflow prevention testing is essential. With the right backflow prevention testing equipment, you can easily detect and prevent any potential contamination of your water supply. In Australia, the law requires backflow prevention testing to protect public health and safety. However, it is important to consider the backflow prevention testing cost, as prices can vary depending on the complexity of the system and the number of backflow preventer installation required.
By investing in regular backflow prevention testing, you can avoid costly repairs and potential legal issues in the future. Remember, prevention is always better than dealing with the consequences of contaminated water. So, make sure to prioritise backflow prevention testing and ensure the safety of your water supply.
BACKFLOW PREVENTION DEVICE TYPES
Curious about backflow prevention device types? Explore the different types of backflow prevention devices available and choose the best option for your home or business.
REDUCED PRESSURE ZONE DEVICE (HIGH HAZARD RATING)
First and foremost, this device has two independent actions, non-return valves. It's worth noting that these valves force-load to the closed position. Uniquely, we position a relief valve between the non-return valves and arrange it to force-load open to the atmosphere.
BREAK TANK / AIR GAP (HIGH HAZARD RATING)
This device has an air brake (physical gap). This gap is located between the lowest water service pipe outlet and any upstream tank, fitting, or container.
TESTABLE DOUBLE-CHECK VALVE (MEDIUM HAZARD RATING)
This backflow prevention valve actively performs two independent actions, utilising non-return valves and a force-loaded mechanism to ensure the closed position. Additionally, it comes equipped with three test taps to facilitate yearly testing.
Call us for all kinds of backflow prevention installation and hazard rating tests all around Sydney. Our professional plumbers are licensed and trained to perform backflow prevention installations, servicing all over Sydney.
Give us a call today!
HOW CAN WE HELP?
The team here at Plumbing Services Sydney can offer you top-notch backflow prevention service that secures both your property and water system. When you come to us, we don't just do a "quick fix" – we'll suss out the root cause of your backflow issue and put in place the proper prevention methods to secure it.
Unnoticed over time, backflow can introduce water pollution and chemicals into your home's water system.
We specialise in handling all types of backflow problems in all types of properties throughout Sydney, utilising our highly trained team of specialists. We will analyse the situation and provide you with a concrete solution to ensure that your water system is secure and your home is safe. As the leading plumbing company in Sydney, you know that you are working with professionals that deliver on their promises.
OUR BACKFLOW PREVENTION SERVICES
Backflow Testing
Backflow Valve Installation
Backflow Valve Repair
Backflow Preventer Maintenance
Cross-Connection Inspection
Backflow Device Replacement
Backflow Certification Services
Backflow Preventer Winterization
Backflow Repair and Troubleshooting
FREQUENTLY ASKED QUESTIONS
Backflow is a term that refers to the unintended flow of water in the opposite direction through your home's plumbing system.
Common causes are back pressure, back siphonage, and damage on sewage pipes.
Without adequate precautions, the dangers of backflow can pose a serious threat to public health.
There are numerous documented instances of contaminants contaminating public drinking water as a result of cross connection/backflow issues, resulting in illness, disease, and even death.
Backflow can occur at any property with a water supply connection under the right circumstances. If your property is classified as a high or medium hazard risk and you do not have a backflow prevention device installed, it is possible for your property to contaminate the drinking water supply.
After installation, there is a test that is needed to be done. Backflow testing typically takes between 20 and 30 minutes to complete, assuming no repairs or adjustments are required.
You can get a free quote on our website by just filling out the form. We offer discounts and there are no hidden charges.